Crown was just beginning in 1957, it's catalogue was filled with stars such as B.B. King at the beginning, later it would make all sorts of knock offs, and many big band and background records and others stuff budget labels liked to issue (think generic 50's music, show tunes, pop hits, etc).
A great resource for information on this label is
here
, this site has history (in far more depth then I can write here) and a discography (for those who want more information on the various 650+ releases).
The first release looked like this.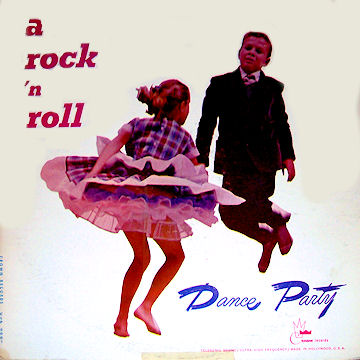 This album featured many well know rock and roll artists such as the Jacks and the Cadets.
You see, Modern was a Blues and R&B label before it went budget and began issuing these Crown records. The first 25 releases were top notch in every way, each album was star studded (Kay Starr, Joe Houston, B.B King, etc). Then release CLP-5026 comes along, and looks like this...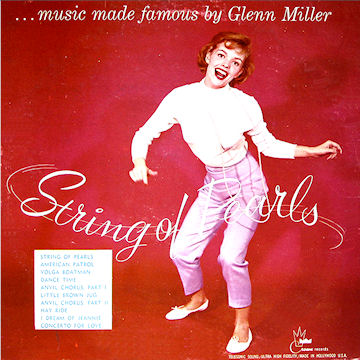 Yep, it is Glenn Miller tribute album, they didn't even mention the name of the studio group on the first issue! It was until this album was reissued in 1958 under a different catalogue number (CLP-5073) that they even bothered to make up a name (it was Phil Martain & His Orchestra)!
Crown then proceeds to issue budget records up into 1972 (again, for more information go the the website I mentioned above). I will now proceed to show you a couple releases of note. By the way, if you see any B.B. King release from Crown records at a thrift store, pick it up and guard it (B.B. King albums are very collectible)!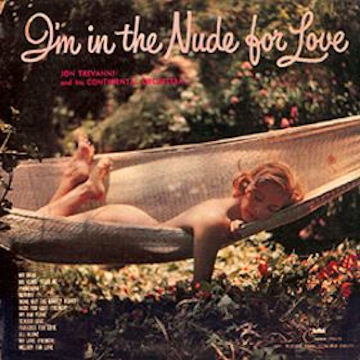 CLP-5046, this release featued Crown's most provocative cover ever!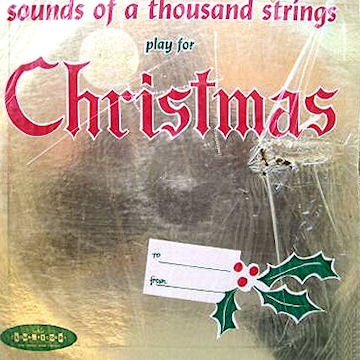 CST-164/CLP-5161, best Christmas background album ever!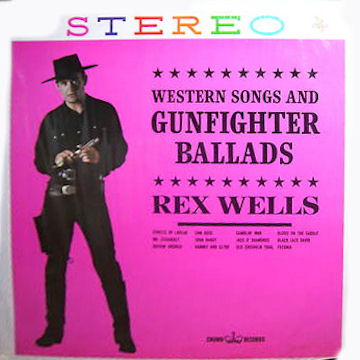 CLP-5233/CST-241, the one of the closest knock off cover art I have ever seen!

Any Twist album (CLP-5244/CST-247-CLP-5255/CST-255)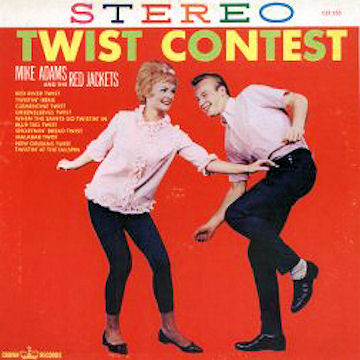 Starting at CST-268 (mono issue is 5268, so the last three digits are the exact same), Jazz albums start being released with covers like this.
It was a short lived series that lasted less then a year.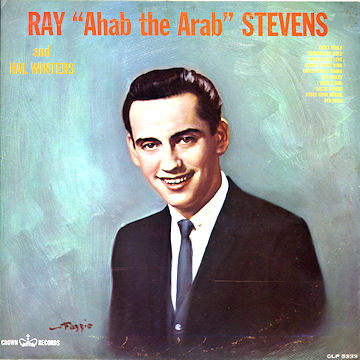 Then starting at CST/CLP-321 to CST/CLP-429 we have the "Fazzio" covers. Fazzio was the name of the artist that airbrushed photos of the featured stars to look like oil paintings. In this series Crown releases older material from many artists that you most likely would be familiar with, such as the above "Ahab The Arab" album. However the trick to these albums would be that the featured artist's (older, not the style the artist was known for) material would only make up two to four tracks , and the rest would be filled up with no name studio groups and other no name singers. Many of these "name" albums were reissued in the early 70's to cash in on the 50's nostalgia going on at the time. Those albums ended with the third reissue of the Dave Clark Five album Crown had put out.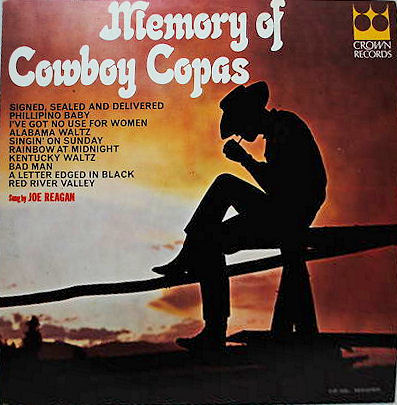 Then at CST/CLP-430 Crown's approach to record jacket covers change and also Crown put out a new logo. The new covers featured for the most part pretty woman (make that very pretty woman), and cowboys (for all Crown's country knock off albums).
Crown issued knock offs and other generic music albums. However the greatest knock offs crown produced had to be the Mexicali Brass albums that were put out between 1965 to 1967. The first album The Mexicali Brass put out was the above album, the last Mexicali brass release is so obscure I have only had the pleasure to see a photo of it only a handful of times. Below is all the other Mexicali Brass covers.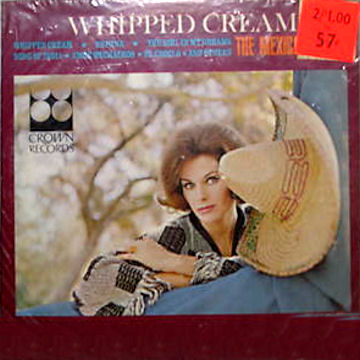 Reissue of the above album,"The Lonely Bull" replaced with "Espana Cani". I happen to own both the original release and this reissue.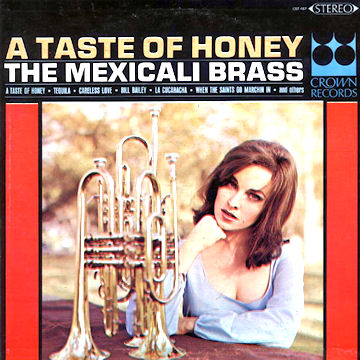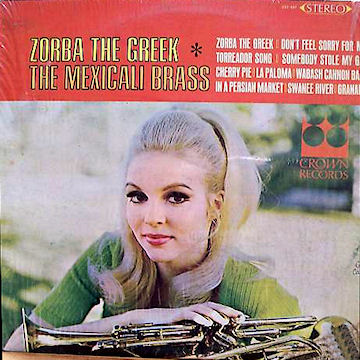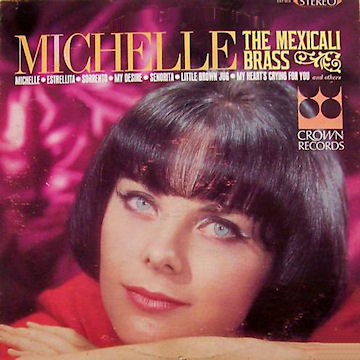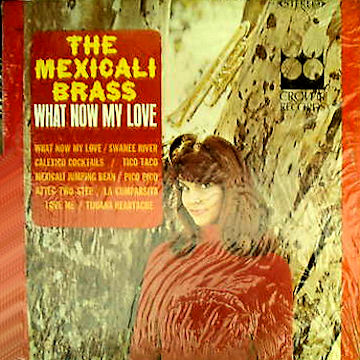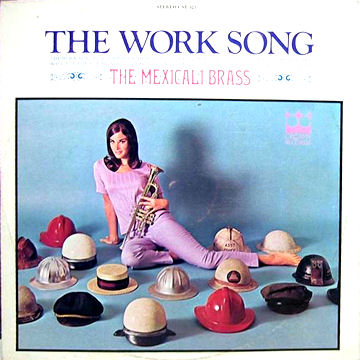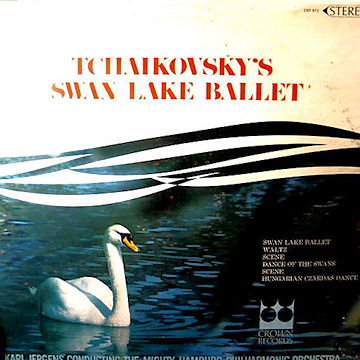 After this the releases are rather scarce, then at CST-571 Crown stopped making mono counterparts and started and made only stereo releases only (which make collecting easier because I will always find the stereo version from this point on, that's if I can find them).
At this point Crown is either reissuing or making county and pop knock off albums. This one is CST-584, which is a reissue of CLP-5035. Below is a series of "Pop" albums that Crown put together between 1968 to 1971. The albums issued in 1972 (the last year that Crown Records) was in operations will be covered shortly.
The Beatles was the top rock band in the 60's and they had quite a few hit songs. Crown covered three Beatle tunes, "I Want To Hold You Hand"(CLP-5399/CST-399), " Michelle" (Mexicali Brass CLP-5503/CST-503), and now "Hey Jude" by The Underground Electrics. The studio group was apparently not that great and I quote from a fellow blogger "the group would have been kicked out of most bars for being so incompetent".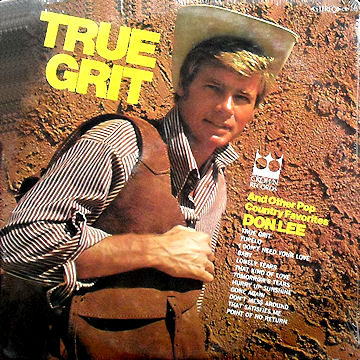 CST-593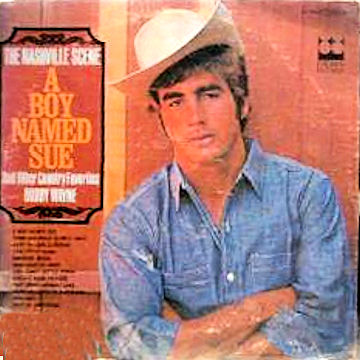 CST-594
CST-600
Then In 1972 Crown issued their last albums, these albums were issued to answer the 50's nostalgia scene that was going on in the early 70's.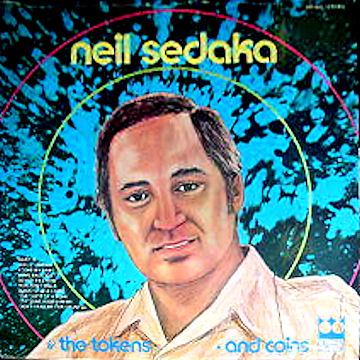 CST-641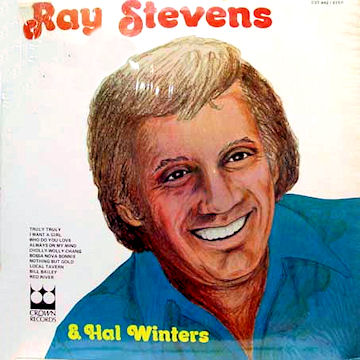 CST-642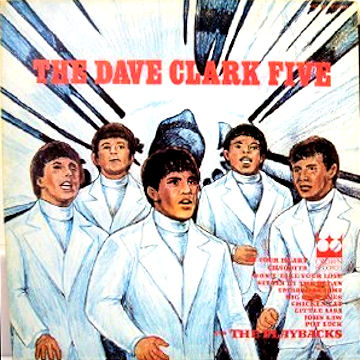 CST-644
CST-644 was the final release for Crown Records as far as I know. This was the second reissue of "The Dave Clark Five and The Playbacks" which was originally issued in 1964 (CST-400), so eight years later crown was scraping the proverbial bottom of the barrel for things to reissue and I guess that this album was it. Shortly afterwards the Bihari brothers split up and went their separate ways. So my friends that is Crown Records in a nutshell.